Humble, competitive and passionate about the agriculture industry aren't words enough to describe Miss Madison Hudgins. I never imagined that after meeting her and her family in Denver this year I'd have the opportunity to watch her accomplish one of her biggest goals, but as I did in Oklahoma City it pulled at my heart strings as she is the perfect picture of a livestock kid. Through the ups and downs that life gives us she never let anything get her down, stayed positive, worked hard and at the end of the day reaped the success she and her family deserved. We are proud to have Madison as a Sure Champ customer.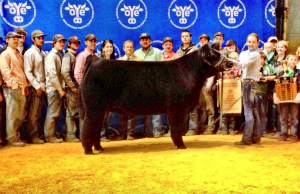 Tell us a little about yourself.
I am 17 years old and a junior at Mannford High School. I live in Mannford, Oklahoma which is 30 miles west of Tulsa. I live with my parents Chris and Lisa and my little brother, Charlie. I am the middle child; I have an older brother Garett who attends college at Oklahoma State University. Currently, I am serving as Vice President of Mannford FFA and Treasurer of my junior class. My activities include a member of National Honor Society, Leadership Council, and varsity basketball team. I am an active member at Lakeside Baptist Church and have had the opportunity to go on several mission trips. I have been showing steers for seven years.
What species do you show and who has influenced you most in your show career?
I show crossbred steers and the most influential person in my life is my older brother Garett. He started showing steers when he was nine and I began showing shortly after. We did not start out winning. It has taken several years to improve feeding, hair quality and overall presentation. I have attended Be A Champ Show Cattle Camp to learn more about showing. In 2010, we had a cooler accident and lost three steers for Tulsa State Fair. Garett and I wanted to give up then, we were devastated but our family and friends encouraged us to keep going. The next year my brother was a senior and he was more determined and work harder than ever. I watched him in 2011 win Grand Champion Market Steer at Tulsa State Fair. Through all this I have learned determination and hard work overcomes adversity. He would always tell me "the small things are what make the difference between winning and losing." There are no short cuts to be taken. When Garett went to college it was really hard to get used to because I relied on him. But he always makes an effort to call me and encourages me to keep working hard. Now I try to teach my little brother Charlie everything Garett has taught me.
Tell us about the success you have had this year.
This past year I have had the opportunity to show at two national shows, two state shows and several jackpots. At the Tulsa State Fair, I showed my prospect steer K.D. (Kevin Durant) and received Reserve Grand Champion. Also, there I had Reserve Crossbred Steer with my market steer, Ocho. In December, I showed at the Arizona National Livestock Show, I got third place in my class with Sib and made the sale. In January, I showed at the National Western for the first time, my steer #7 received third in his class and made the sale and my prospect steer; Boom was first in his class and was reserve division. At Oklahoma Youth Expo I had Grand Champion Market Steer with K.D. which is my best steer yet.
What is one of your favorite showring moments?
My favorite moment this year in the showring was at OYE in the Grand Drive. It wasn't just the judge saying "baby sister" and realizing I had just won Grand Champion. But, it was right after that when my family came down from the stands with tears in their eyes and wrapped their arms around me. At that moment I realized I had achieved not only my goal but my older brother Garett's goal and even more than that my family's goal. That goal was to win Oklahoma Youth Expo.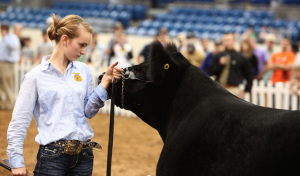 How has Sure Champ helped you achieve success in the show ring?
We feel confident in Sure Champ and would not feed a steer without it. It has improved our steer's appetite and increased muscle development. It helps our steers achieve their full potential.
 What are your future plans?
My future plans include attending Oklahoma State University and majoring in engineering. I would like to become an Industrial Engineer to develop new products and improve existing. I believe my hard work and determination will help me to achieve great things.
What advice would you give to others that hope to become successful like yourself?
My advice is to never give up, always work hard, and have a passion for the things you care about the most. Always dream big, you never know where life will take you. Do the small things right, stay consistent and once you find something that works for you do it over and over.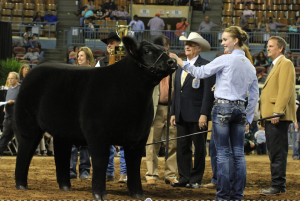 Anything else you would like to add.
I would first like to thank God for providing me with an amazing family, I wouldn't be in this position if it weren't for them. Also like to give a huge thanks to Jerrod Arthur and the Lucky Strike Team, for always giving a 110% and fitting my steers to their highest potential. Thank you to all the businesses that purchased my steer at OYE.