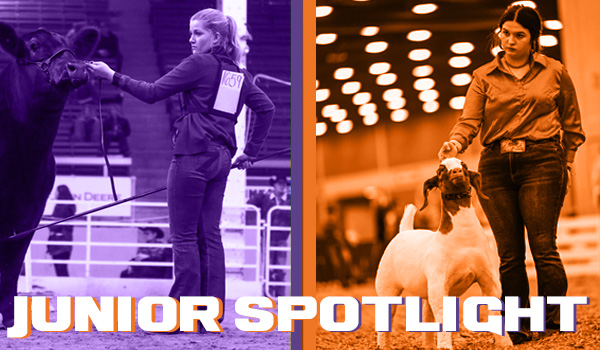 The beauty of the agriculture industry is simply our youth. There is no other industry with hardworking, determined young individuals who can make a difference no matter what they do!
For the month of January, we are honored to highlight two young people that work hard, but more importantly, are role models for the next generation of agriculturalists. Kenzie Stadtmiller from Pennsylvania comes from a sheep, goat and cattle background. Paige Lemenager hails from Illinois where she comes from a strong cattle background. Kenzie and Paige are no strangers to the show ring but realize the importance of the work it takes at home. Both families have utilized Sure Champ® and Vita Charge® in their programs for many years.
What Sure Champ and Vita Charge products do you use?
Paige: Sure Champ Cattle, Vita Charge Cattle Drench, Vita Charge Stress Tubs, and Vita Charge Liquid Boost®
Kenzie: Vita Charge Liquid Boost, Vita Charge Gel, and Vita Charge Climate Control Gel
What are the biggest benefits you have seen using Sure Champ and Vita Charge products?
Paige: We are firm believers in Vita Charge Cattle Drench. We give our show heifers drench every 30 to 45 days. This keeps cattle eating well and especially boosts their forage intake. Paired with the Vita Charge Stress Tubs, we believe these two products play a crucial role in our cattle's nutrition at home and on the road.
Kenzie: The biggest benefits we've seen while using Vita Charge products are keeping our animals on feed and, simply, feeling good, whether that's during times of stress or just in general.
What is some advice you would give to showmen looking up to you?
Paige: Always look for ways to improve your herd's nutrition/health and keep a consistent routine at shows as you would at home.
Kenzie: Winners Win – If you believe in yourself, have dedication, a good work ethic, and never quit, you'll be a winner!
Here at BioZyme®, makers of Sure Champ and Vita Charge, we believe youth are the future of our industry. With the talents that Paige and Kenzie both exhibit, we know that our industry is in good hands!
If you want to #PreptoWin like Paige and Kenzie, visit www.surechamp.com to learn how our products can help you achieve your goals!