By Josh Brockman, Brockman Farms
What's the right thing to do? That's a question I ask myself for every situation when it comes to livestock, but it's especially true when it comes to feeding and preparing for a show from a weight standpoint. The first and most important factor to consider is to "Get a Plan" and "Get a Plan Early". No matter what specie it is, waiting until the end to weigh, and then trying to pull back and hold or to play catch up on weight gain makes the struggle more difficult.
The following is a protocol I try to constantly follow when managing livestock from start to finish. At the beginning of your project (yes, the first couple of weeks) you need to have in mind which show you are targeting, the number of days until the show, and the weight limits of that particular show if applicable. After the first three weeks of having your project, you should have weighed at least once to determine a "starting" weight. I suggest weighing weekly. It is very important to pick a consistent day so that every time you weigh, you minimize variance. Also, I always suggest weighing fairly soon after a feeding so you get a "full" weight on your animal. These days, many feed their animals more at the show and will show them "full", so it makes sense to weigh them that way at the house as well. With a weight in hand, you can calculate daily gain, multiply that by the days left to show and get a "projected show weight". This gives you the information to adjust your feeding plan according to the desired weight you would like to finish your project.
Targeting a "SPECIFIC WEIGHT" is another decision that I feel you need to base mostly on the type of your animal. Some animals are better suited to be targeted to a lighter weight division, some in the middle, and some heavier. However, in most cases, I suggest leaving yourself appropriate room for gain to be able to feed into a fresh look towards those last 30 days. That does not mean to get them as big as you possibly can – the main concern is freshness and acquiring appropriate mass, shape and center, while maintaining a good skeleton, joints and comfort. There's nothing wrong with winning the 240 lb lightweight class if that's what best fits your pig.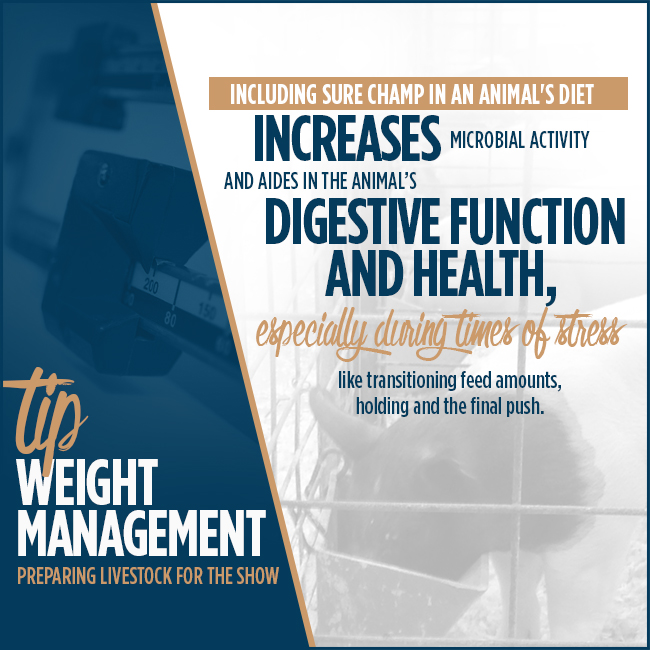 There are obviously times that you must "HOLD" an animal. As mentioned above, I always suggest making a plan early. It is much more ideal to me, that when I have a project with a weight issue (in this case one that's going to be too big), I start adjusting for that during the first half of the feeding phase. For example, if its December 10th (appx. 75 days from the San Antonio barrow show), and I have a show barrow for San Antonio who weighs 155, gaining 2 lbs per day, equaling a "projected show weight" of 305 pounds, I know that I need to get a plan to hold that barrow until my calculated weight is at or below 290 pounds to qualify for the show when he returns to his normal gain of 2lbs/per day. *Tip: Be sure and read about the "Final Push" below.
Another important factor to consider is the "FINAL PUSH". Even though there are certain exceptions, towards the end of the feeding period (last 30 days prior to show), I suggest to increase energy content in most cases to be sure you roll into the show with a "fresh" look. This does not always necessarily mean just increasing feed amount. You can change your animal's ration and energy content by increasing protein, lysine and/or fat by using different feed than the one you used earlier in the growing stage. There are also different supplements on the market that can be used to increase energy in the ration. Remember to keep this "final push" in mind early or when holding, when you're figuring a "projected show weight" because with this approach, daily gain will typically increase in this final stage compared to earlier gains recorded. When figuring your target date don't forget to figure up to the date of the show if there is a weigh back, not simply the weigh in date. *Tip: Including Sure Champ in an animal's diet increases microbial activity and aides in the animal's digestive function and health, especially during times of stress like transitioning feed amounts, holding and the final push.
Last but not least is weight management at the show. There's nothing more frustrating than working hard all year and weighing out at the show, so turning in the right weight is crucial. A good rule of thumb that a very successful person taught me to remember is, "It's not rocket science – figure out where that animal will look the best and put more emphasis on that versus trying to hit a certain class with the weight you turn in." I always try to leave enough room to be comfortable when an animal is going across the scales in the ring. As far as a general standard of weight, I would suggest weighing at the show every morning before feeding, once during the middle of the day before feeding, and every night before feeding. Of course you will likely be feeding and/or watering more often than three times a day, so you also need to consider the amount of feed/fluid you are giving the animal in between these weighing times. With this method, you will know how much you can feed/water and not be in a weight issue. Of course on the day of the show, depending on the time that animal shows and the amount of feed/fluid he or she needs to look right in the show ring, you will be feeding and weighing more frequently. *Tip: Vita Charge® Gel and Liquid Boost are great tools to enhance appetite and consumption at the show.
Good luck to all of you at the spring shows this coming year!