Or how about cattle, video, career.
The opportunities for young people who show livestock are vast but lately a couple of them have taken on a very eye-appealing job in the ag world.
Kirbe Schnoor grew up in California and showed Angus cattle and steers. Today, she works as a TV host for Superior Productions, which has shows on RFD-TV and she serves as host of Superior Sunrise. The dream job Schnoor has now was not laid out for her. She actually applied for a position with a magazine in Texas and on her way to interview she called on Angus friend Julie French for advice. French connected Schnoor with Superior Livestock and though there was no job available with the company, she says she knew it was the place she wanted to work.
"I called and called Superior asking about a position, until they said, 'We have a job for you,'" she says. "I packed my bags and moved to Fort Worth. That was two years ago."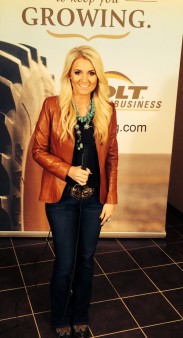 After working through various projects including advertisements and graphic design, the company put Schnoor in charge of a television spot called Kirbe's Corner on the show Superior Sunrise. This provided a daily workload ranging from interviews, traveling to shoots, editing b-roll and writing scripts. The company also charged Schnoor with producing The American Rancher, a show for RFD-TV, Rural TV and Family Net that connects western heritage to its audience through features and ranch profiles.
Schnoor says the recommendation to work for Superior from French, put her on this career path. Her degree in mass communications and journalism from California State University, Fresno, emphasized broadcast work but growing up with livestock and networking with ranchers have each contributed to where she is now.
"I trusted my gut with everything," she says. "I liked Superior because it came from a high recommendation and I appreciated all they stand for. I thought to myself, 'This is a cool company, I can leave a mark here.'"
Schnoor uses the term backpack journalism for her work as she can collect video, formulate a story, edit b-roll and produce a segment all on her own. The hours are long and mostly spent in front of multiple computer screens. She says her cattle show career prepared her for this kind workload, being able to carry gear and working from sunup to sundown.
Showing cattle also gave her a sense of responsibility and she believes in being an advocate on behalf of the ag industry. Schnoor is grateful to Superior Productions and Livestock Auctions to be able to have a voice and a platform.
"I would tell others to not be afraid of networking with people," she says. "My mom gave me the advice to call on Julie French and that started it all. And be sure to call people and meet them for coffee instead of email or text. We sometimes lose our sense of being personable. We get more emotion when we talk with others instead of email."
Schnoor says she is grateful for the opportunities ahead.
"If there can be more voices in ag and livestock, why not be one of them," she says.