For veteran cattle exhibitor-turned-show-mom Tiffani Stadtmiller, the lamb barn was new territory when her daughter McKenzie started showing lambs at just 4-years-old. But the mother-daughter duo has learned a lot in the last nine years, and Tiffani's best piece of advice is: never be afraid to ask questions.
"I think it's pretty cool that she's been able to do so much at such a young age. I'm still learning, and I'm not afraid to admit that. The only way you can learn is to ask questions," Tiffani said.
When it comes to the show supplies that now 13-year-old McKenzie uses, Tiffani admits her daughter usually makes a list, and Tiffani does the purchasing because McKenzie is the one in the barn, using the products daily. However, since McKenzie and her younger brother Trenton also show cattle, pigs and goats, keeping the barn organized and the trailer packed is a family affair.
"I'm the mom that has everything. I pack extra, just in case," Tiffani said. The Dayton, Pa., mom offered some great advice for newer lamb exhibitors on the supplies they will need around the barn and at the show.
Around the Barn – Daily Use
"The number one rule at our house is the lambs always have fresh water," Tiffani said.
The lambs each have a flat-backed bucket hanging in their pen secured with a snap-on hook. In the summer water buckets get refilled with fresh water at least three times a day.
Good feed and hay accompanies fresh water. Tiffani suggests working with the breeder or person who sold you your lambs or a nearby feed company to figure out the feeding program that will work best for your lambs. She said they feed just enough hay to keep their lambs' digestive health in check. They use the feed pans that secure on the gate with snap-on hooks rather than the pans that just hang with no snaps. She feels they are safer since the lambs won't knock them off and risk getting cut on the hanger if it is sticking up.
In the Stadtmiller barn, fans are running constantly. They need these to circulate the air and keep the lambs cool. Even with winter shows and a heated barn, they like to keep the barn about 55 degrees.
Tiffani said two must-have items for lamb exhibitors are a lamb stand and a blower. McKenzie trains her lambs to stand still with their heads up, by training them to stand on the lamb stand each day. She also uses the blower to dry the lambs and uses it to condition their leg wool – something she does every other day.
Other grooming products she uses for leg wool include a wool card and Weaver's Pro Hair. She also uses a coconut conditioner. Tiffani said they have found the coconut scent has helped repel flies away from their lambs.
Packing the Trailer
Since the Stadtmiller family shows a variety of animals in a variety of states – they follow show circuits in Pennsylvania, Virginia and Ohio – they typically pressure wash and disinfect their trailer after each show, so they start with a fresh trailer each time. Tiffani said, it doesn't matter the species, she always packs extra, for both the animals and kids, including allergy medicine, ibuprofen, a first aid kit and plenty of drinks and snacks, along with a table and chairs.
"We spend a lot of time with a lot of people that we have become good friends with at these shows. It is nice if you have some extra time to set down and hang out with them and relax a little bit because it can be pretty hectic," she said.
Tiffani said she always packs the following: extension cords, fans, a generator, feed pans, water buckets, feed, hay, pop-up tents for shade, coolers for drinks and an extra cooler to ice down lambs if needed, and a show box full of supplies.
Inside the lamb show box, you can find, soap, Weaver's Pro Hair, Pink Oil, Corn Huskers Oil or hide lotion to keep them moisturized after they are clipped, clippers, wet wipes – for both the sheep and humans, extra halters, Pepto Bismol in case the lambs have upset stomachs, Vita Charge® Liquid Boost® to help reduce the lamb's stress, a drench gun, Attitude Adjustment a natural calming paste by Stock Show Secrets, and a water filter. She also keeps tubs of clean towels, cotton tubes and lamb blankets in the trailer. The final item she suggests is a sprayer full of lime-dip. She said each of their lambs gets sprayed with lime-dip prior to loading the trailer home to help prevent fungus.
"I grew up showing cattle. The lamb thing is new to me. My daughter does show cattle, but sheep are her passion, and I have no clue where that came from. Everything she has done in the lamb industry has been her, and luckily Jamie and Greg Beatty took her under their wing. When it comes to picking out sheep or doing things, she's only 13, but she's years beyond when it comes to that stuff," Tiffani said.
And even though she said she does tend to over pack, there's still times she doesn't have everything.
"Nine times out of 10 we end up needing something we don't have that we have to buy at the show. That is just a natural thing."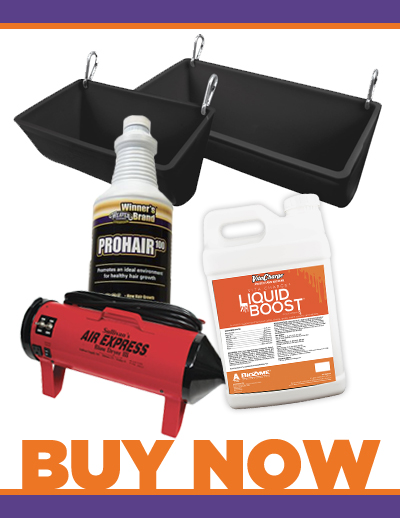 For a complete list of recommended products with buy now links: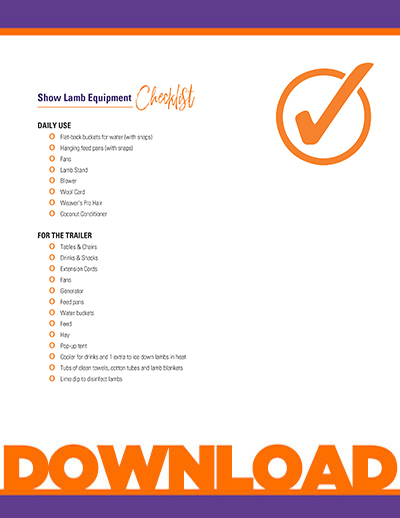 For a downloadable version of the show lamb checklist: