Every year about this time I get a little anxious. I recall my experience as a junior, and how the old show heifers were out to pasture, curious why they didn't get to come in the barn every day. At the same time every afternoon, the mail carrier would deliver a brand new pile of sale catalogs to sort through, all in an effort to find our next show heifer. Today, sale catalogs still fill our mailbox, but there is also the constant ding from our smartphone as e-blasts and online sale notifications roll in.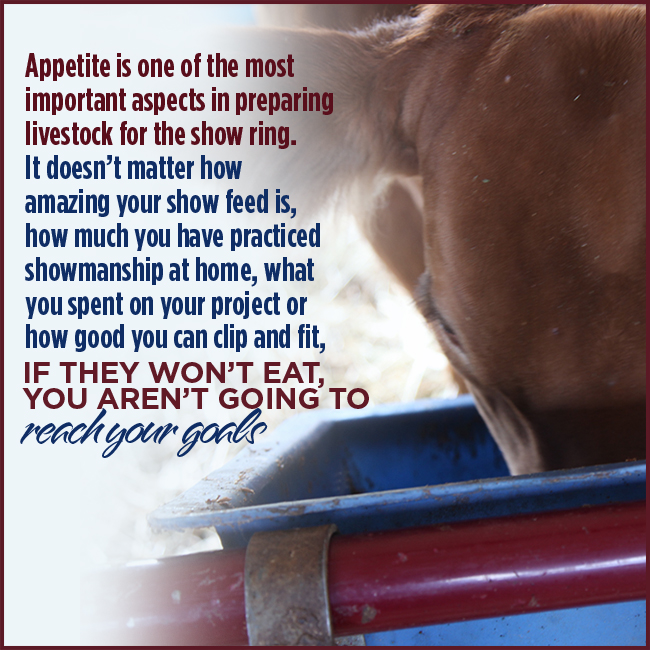 As you prepare to purchase your next show calf there are lots of factors to consider – who you will purchase your calf from, its genetics and phenotype. The other part of the equation is getting your calf off to the best start nutritionally. There is so much performance bred into show cattle that it can take a pretty high plane of nutrition to ensure your calf is reaching its full potential. On the other hand, you might realize your calf has some areas of weakness that a feeding program can potentially repair or conceal. Regardless of the path you are on there is one constant: if they aren't eating, you aren't winning.
Appetite is one of the most important aspects in preparing livestock for the show ring. It doesn't matter how amazing your show feed is, how much you have practiced showmanship at home, what you spent on your project or how good you can clip and fit, if they won't eat you aren't going to reach your goals.
Sure Champ® Cattle focuses on digestive health and stimulating appetite. By using Sure Champ Cattle as your daily top-dress, you are providing the combination of Amaferm® and elevated levels of highly bioavailable vitamins and minerals to achieve maximum performance potential. Amaferm®️ is a prebiotic designed to enhance digestibility by amplifying the nutrient supply for maximum performance. It is research-proven to increase intake, digestion and absorption. Many people don't realize that Sure Champ Original is a complete vitamin and mineral supplement so additional mineral and vitamin sources are not necessary.
Your new show calf is going to experience some stressful periods. Transporting your new calf from the sale location to its new home and changing its environment is stressful. Sure Champ Original works to keep that appetite consistent, but you also need to protect that calf from additional stress. To reduce future stress and protect their overall health, introduce Vita Charge® into the diet. Whether you give your calf a dose of Vita Charge® Gel or Liquid Boost® prior to loading them on the trailer or you have a Vita Charge Stress Tub in their pen upon arrival, Sure Champ and Vita Charge will work together to get your new calf on the right track. By doing the little things right every day we can put ourselves on the path to success.