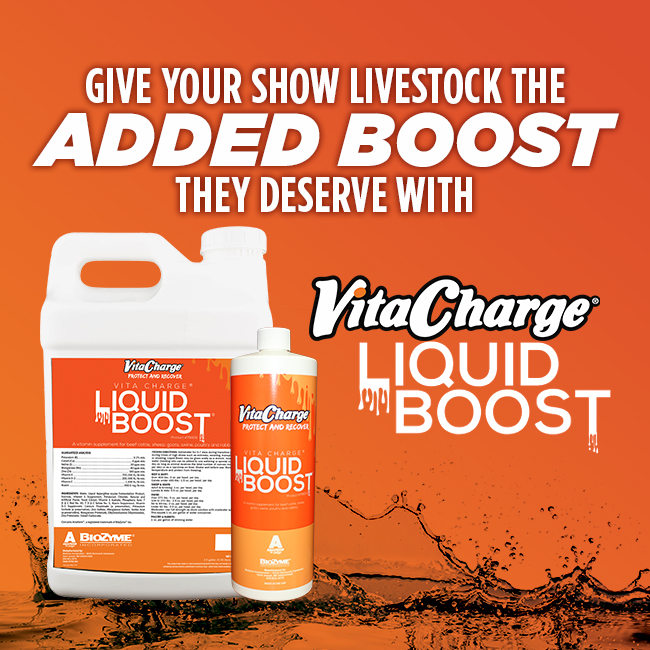 Showing livestock is thrilling yet challenging. It's a game of high rewards and even higher risks. Exhibitors and their families put in countless hours feeding, exercising, rinsing, working hair and skin, often sacrificing their own meal times and routines to ensure their livestock are dialed in for the next show or event. One thing livestock feeders can count on is that at sometime during that show animal's career it is going to get sick and likely go off feed and/or water.
Be sure to give your show livestock the added boost they need and deserve with Vita Charge® Liquid Boost®, a liquid for all livestock designed to provide immediate support to the animal's digestive and immune system. Vita Charge is a line of fast-acting, multi-specie livestock products for support before, during and after stressful times. Liquid Boost contains AO-Biotics® Amaferm®, a prebiotic research-proven to enhance digestibility, MOS that helps normalize gut microflora and support the immune system and enzymes to generate a more rapid digestive response. 
"We ask a lot from our show animals. Hauling them everywhere and introducing them to unknown environments are stressors that can wreck your plans quickly. Over 70% of your animal's immune function resides in the gut, so making sure it's healthy and operating efficiently is paramount in these situations. Amaferm is a precision prebiotic that promotes the growth of beneficial microbes in the gut, while MOS helps to trap and expel the bad bacteria. It's easy to see how a product like Liquid Boost can provide the 1-2 punch needed to keep your livestock healthy, eating and drinking," said Chris Cassady, Ph.D., BioZyme® Inc. Beef Technical Sales Manager.
Vita Charge Liquid Boost is an ultimate show supplement for cattle, sheep, goats, pigs, poultry and rabbits. It can be top dressed on feed, added to the water, given as a drench or dispensed through a medicator. It is ideal for times of transition or high stress such as hauling, treating sickness, weaning or showing. It is recommended to start your animals on it 5 to 7 days prior to taking them to a show or anytime you are treating them for sickness through 5 to 7 days post show or 5 to 7 days post-treatment. Some people keep their animals on Liquid Boost constantly to ensure a healthy gut and to encourage water intake since its palatable flavoring helps create consistency in taste of any water source.
"Liquid Boost can be administered by a number of practical means, and is available in a bottle that easily fits in any showbox. One key thing to mention is that Liquid Boost contains a cherry flavor. Animal feed and water intake is mostly driven by palatability, so Liquid Boost can help promote hydration by masking some of the off-flavors and odors from different water sources," Cassady said.
Vita Charge Liquid Boost is available in two sizes, 2.5 gallon and 32 ounces, making it efficient to have a larger size in the barn and a more convenient size that easily fits in the show box.
Give your animals the extra boost in immunity, feed and water intake they need and deserve. Give them the added advantage of Vita Charge Liquid Boost so they can maintain a healthy immune system and continue their feed and water intake on the road and at home.