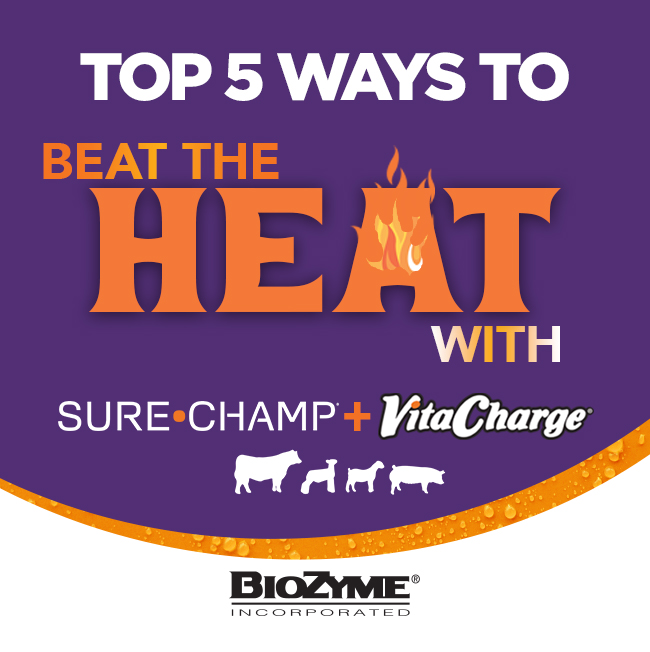 The days are getting longer, and the sun is finally showing up, meaning temperatures are slowly rising. Youth are counting down the days until school's out, and that can only mean one thing – summer show season will soon be here!
Summer shows give the exhibitor the opportunity to showcase all their efforts, but that hard work can be for naught when heat stress sneaks up. Make sure your efforts to #PreptoWin aren't overwhelmed by heat stress. Beat the heat with these five tips and multiple products from BioZyme® Inc., that contain our HEAT® technology, a combination of essential oils and garlic, as well as ClariFly® to support animals when heat and insects are a challenge.
Give them Extreme care. Just like humans, when livestock are hot, they don't feel like eating heavy meals. However, if they aren't eating, show livestock likely aren't performing either. Make Sure Champ® Extreme with ClariFly® part of their daily diet. This is a pelleted, daily supplement for show livestock with ClariFly designed to support hoof health, hair coat and performance when temperatures are hotter than 70 degrees. Labeled for cattle, pigs, goats and sheep, Sure Champ Extreme with ClariFly contains AO-Biotics® Amaferm®, a prebiotic research-proven to enhance digestibility, MOS to help normalize gut microflora and support the immune system, and our HEAT technology.
Boost their Hydration. Did you know that appetite is directly correlated to hydration? Make sure your animals never miss a beat by adding Vita Charge® Liquid Boost® to their water. Liquid Boost is a liquid for all livestock designed to provide immediate support to the animal's digestive and immune system. It also contains Amaferm and MOS as well as flavoring to help drive intake of feed or water. It is ideal to use on the show road, when unfamiliar or heavily chlorinated water sources might prevent your animals from drinking.
Support Digestive Health. Show cattle can be finicky eaters, but licking a tub is a calming activity for them. The 50-pound Vita Charge Stress Tub with HEAT® is a tub for cattle designed to support digestive health and intake when temperatures are above 70 degrees. It contains Amaferm, MOS, a probiotic to help restore the gut microbiome and our HEAT technology. It does come in both 200- and 50-pound sizes, but the smaller size is convenient to take to shows when you need rapid resilience.
Offer Quick Cooling Relief. If you are seeking a rapid-response product that is easy to administer for all species, you are looking for Vita Charge® Climate Control Gel. This gel for all livestock is designed to support digestive health and recovery when temperatures are above 70 degrees. It contains Amaferm and our HEAT technology to promote feed and water intake. Its small size makes it easy to transport.
Provide the Best Care for Low-stress Situations. A little common sense and a lot of care can go a long way. To ensure your animals stay as stress-free as possible, make sure they have plenty of shade and are in an area with good air circulation. If they are in an enclosed structure, be sure there are fans circulating air. If they are outside, be sure to provide them plenty of shade and fresh water. If you are exercising animals, be sure to be cognizant of the temperature, and have water available to them, even spray them down if necessary. Rinse or wash when you are finished to cool them down.
You can beat the heat and your competition this summer with a low-stressed animal. Make sure yours livestock stay healthy, eating, drinking and performing with the help of Amaferm and the HEAT technology from BioZyme. Learn more about these products and where you can buy them at www.surechamp.com.